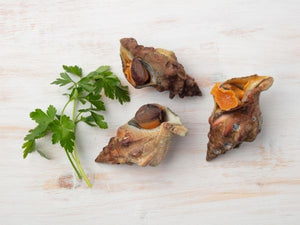 PRICING
Quantity = number of pounds

There are approximately 4 snails per pound
For example, "Quantity: 5" = 5 lbs of snails (~20 snails)
DELIVERY As this is a live product, please leave a cooler with ice packs. Live seafood should not come into direct contact with ice (fresh water) and should not be submerged in water.
A serving is typically 4-8 snails.
Best boiled for 5-7 minutes.  Add butter and lemon grass for flavor.


Scientific name: kelletia kelletii
Live Kellet's Whelk (Sea Snails), per lb